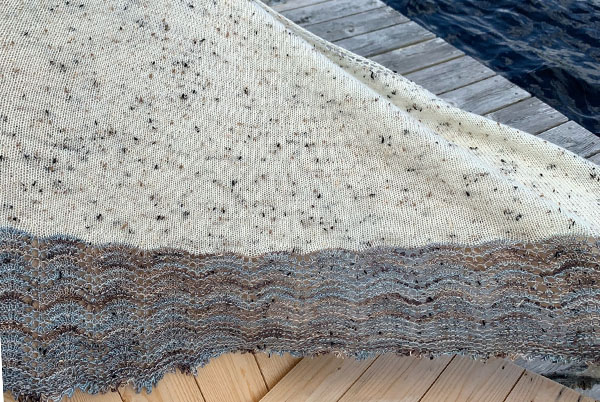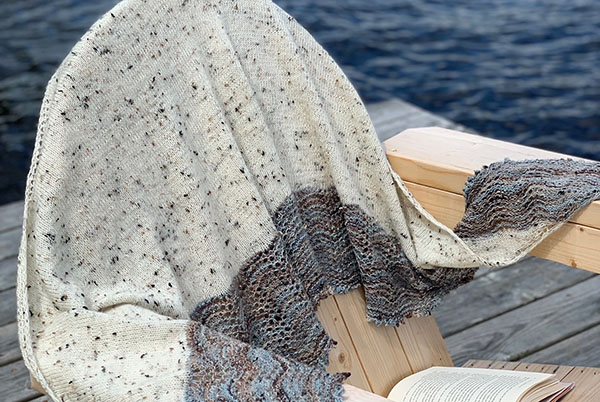 Birch Canoe Shawl – Updated
Cast On clarification: CO 2 sts, Knit 6 rows, Pick Up 3 along garter stitch edge, Pick up 2 sts – 7 sts. 
Increase to 34sts: RS: K2, yo, k1, yo, kfb, k2, kfb, k2, kfb, k3 kfb, k2, kfb, k2, kfb, yo, k1, yo, k2 – 34sts
The birch bark canoe was the principal means of water transportation for the Canadian First Nation peoples. They were lightweight and easily maneuverable inquick waters on the Canadian Shield and other areas around Canada.
Like knitting, the birch bark canoe craft was passed down from generation to generation. This crescent shawl is the big sister to our shawlette.
It is knit in stockinette with a wave lace pattern at the end to emulate a birch bark canoe on the Canadian waters.
The finished garment measures approximately 100″ wide x 24′ deep
Recommended Yarns:
Fleece Artist: Merino Slim & Vine
Hand Maiden Fine Yarns: Flyss, Sea Silk, Mini Maiden